Shruti
Shruti came to Artbox last year and has quickly earned a reputation as one of our studio's most entertaining characters. She's fun, playful and vibrant just like her work. It's been a delight to watch her transformation into a self-confessed full time artist.
Before coming to Artbox, Shruti spent a lot of time at home while her mum took time off work to look for suitable opportunities. With funding cuts and the closure of many adult services, many people with learning disabilities struggle to get out of the house and this can have a detrimental effect on their personal and social wellbeing, leading to low levels of confidence and self esteem. She liked being creative but didn't have opportunities to channel that creativity. Since joining Artbox she has loved taking part in all kinds of art-making in the studio from drawing and painting to collage and print - always using bright colours and excited to explore new techniques. Her charisma, confidence and kindness has quickly made her extremely popular in our workshops and out in public. She even took part in running our sale at a Christmas market which helped her develop networking and sales skills - it came as no surprise, she was a natural! She's held two different jobs since we've known her in customer-facing roles and continues to be enthusiastic about work.
Aside from the studio, another main component of Artbox is our day trips which allow our artists a day out with their friends whilst showing them different sides of London. This year we were lucky to receive tickets to many exhibitions from Bank of America Merrill Lynch: Robert Rauschenberg at the Tate Modern, Picasso's Portraits at the National Gallery, and South African Art at the British Museum to name a few, which gave our groups lots of opportunity to expand their art knowledge and lots of new inspiration to bring back to the studio. Shruti loved all of these trips, particularly Picasso, as she loved his sculptures and spent most of the day avidly sketching, excited by the range of different media on display.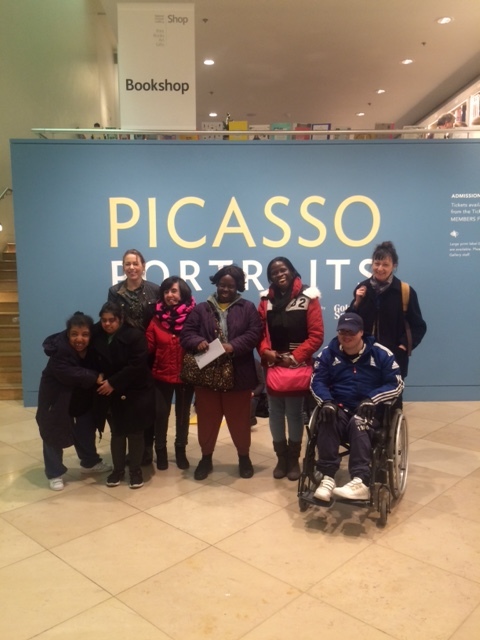 The visible change in Shruti's confidence and sense of purpose has been fantastic. Her support worker Annika has also been an incredible influence. She is a wonderfully creative person herself, and the duo seem to draw a lot of inspiration and humour from each other. It's great that Shruti has finally found the support she deserves. Since going on our group outings they now go to museums and galleries together during the week and have filled Shruti's home with endless art supplies. They come up with projects together and spend time exploring creative avenues every day. Her playfulness and passion for variety makes it a perfect partnership. Her family provides great positivity as well and Shruti's mum has joined us on several outings including the treasure hunt, a workshop at the Parasol Unit, and a trip to the RA Summer Exhibition. They are always up for new experiences.
Stories like Shruti's are Artbox's aim: to give people with learning disabilities the chance to explore their creativity and to experience the wonderful cultural experiences that the capital has to offer. She has found new friends, found confidence in navigating the city, and found a sense of happiness. Being able to take our artists out on trips opens their eyes to different sides of the city and the endless creative opportunities to be found.